What are the Consequences of a Drug Crime Charge?
Dec. 21, 2020
Are you facing drug charges in Greenville, SC? If so, you will need an experienced and aggressive criminal defense lawyer on your side. The "war on drugs" is ongoing and has the support of major political groups, law enforcement, and State and Federal agencies.
Both the State and Federal prosecutors are now seeking major prison terms to carry out the political message of the war on drugs. If you are charged with a drug crime, the government will likely try to make an example of you with maximum sentencing including fines, long prison terms, or both.
Drug cases are often won or lost based upon the legality of the initial police contact, search and arrest. At The Haley Law Firm, LLC, we have extensive experience in this area of law.
If you were subject to an illegal search and seizure, your lawyer may be successful in having all drug charges dismissed. At our firm, we believe that your constitutional rights should be protected and thus utilize our experience and aggressive representation to help ensure this.
Whether you are facing drug charges involving possession, distribution, sale, trafficking, cultivation, manufacturing, import/export, or possession with the intent to sell, you may face a county jail or state prison sentence. The severity of your sentence will depend upon the amount and type of drug you are accused of being in possession of or otherwise dealing with. Marijuana, cocaine, heroin, ecstasy, methamphetamine (meth) and prescription drug are just a few of the controlled substances involved in a drug crime charge in the state.
Only with the help of an experienced criminal defense lawyer do you have the opportunity to have an illegal search and seizure or your factual innocence proven. At Haley Law Firm, LLC, we have the knowledge, experience and resources to help defend your drug crime case. Contact our group of lawyers today to learn how we can help fight your charges!
The country's efforts to crackdown on medical marijuana have landed one dispensary owner in the hot seat. The owner of a medical marijuana dispensary, is facing criminal charges for the illegal sale of marijuana and money laundering.
He is accused of passing out flyers advertising the dispensary near a high school. Since then, some of the students at the school have purchased marijuana from the dispensary. No details have been released about the money laundering charges.
A new ordinance was signed that prohibits dispensaries from opening within a certain distance of schools or any other location that children frequent. It's not clear whether the dispensary is located near a school or if he just went to the school to pass out the flyers.
Although medical marijuana is illegal on the federal level, the state still allows marijuana to be cultivated, sold, and used for medicinal purposes. However, the country has been cracking down on medical marijuana dispensaries, and the ordinance signed limits the number of dispensaries that are allowed to operate within a certain radius.
He faces 24 criminal counts. His bail was set at $350,000.
Facing Criminal Charges in Connection with Medical Marijuana?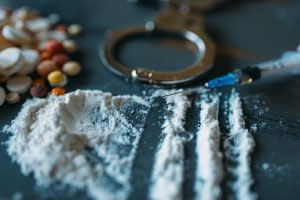 Following an arrest for cultivating, selling, or possessing medical marijuana, it's important to contact an attorney as quickly as possible to ensure your legal rights are defended. The state permits the use of medical marijuana, and an attorney can uphold your rights to sell, use, or possess medical marijuana under the those laws. If you have found yourself in this situation, contact Haley Law Firm, LLC, today to learn what can be done to defend you against your drug crime charges!