What is the Difference Between Theft and Robbery?
Jan. 20, 2019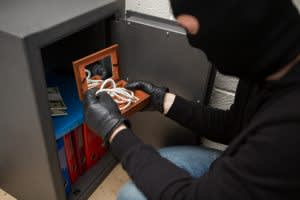 When it comes to crime, many people confuse theft and robbery as the same charge. While the two charges are alike and share certain similarities, each involve differing tactics and motivation and a court will punish the thief or the robber differently, particularly due to a unique set of circumstances.
How Is Theft Defined?
Theft is a general term that is used to cover different crimes. Some states even refer to theft as "larceny". The typical elements that a theft must have are:
A person stealing someone else's personal property (a purse, a wallet, a phone) or their money without that person's permission.

Taking that property away from the original owner, and

Having the intention to keep the property or money permanently for their own personal use.
Does a Person Have to Be Present To Be a Victim Of Theft?
No. The person does not have to be present to be a victim. For example, if you are on vacation and someone comes into your home and steals a TV, this is theft. Or, if you are shopping in a grocery store and a person steals your car while you are not in it, this is also theft.
What Kinds Of Theft Are There?
Typically, people think of theft as the stealing of a physical item that belongs to someone else, like the above examples. However, theft comes in other forms, like:
Using public transportation but not paying for it.

Replacing a higher price tag with a lower price tag on an item in a store.

Using someone else's electricity or cellphone services and not paying them.

Stealing someone's identity and using their driver's license, credit cards, or other personally identifiable devices.
How Is Robbery Defined?
Just like theft, someone who commits a robbery also takes someone else's property without the owner's permission. The biggest distinction, though, is that someone commits a robbery with the "threat of force". For a court to consider it a robbery, it must usually comprise:
A person stealing someone else's property without the owner's permission.

Taking that item away from the owner without the intention of bringing it back, and

Doing this by using force or by threatening force. The use of force may be shown when the robber uses a gun or a knife.
Does a Person Have to Be Present to Be a Victim of Robbery?
Yes, unlike theft, a robbery occurs when the victim is present. Someone may threaten you with a gun outside your car door so they can get behind the wheel and drive off. This is a robbery.
What Are the Penalties?
Penalties for theft are usually between a misdemeanor or a felony, depending on what the perpetrator stole and what the item's value was. Because the robber threatens the victim with force, it is usually more serious and a court will often punish the robber with a felony conviction.