What to do When You're Charged with a DUI
Jan. 20, 2019
An Attorney Who Knows how To Protect Your Rights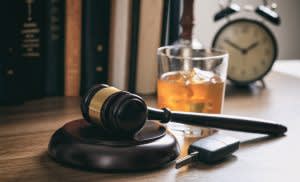 A DUI charge can have very serious consequences which can haunt you for the remainder of your life. Regardless of if you're just a first-time offender, you could potentially serve jail time, be forced to pay a fine, serve probation and enter DUI education programs. These can all cause you to lose money, time and freedom. This can negatively impact your ability to obtain employment or even attend work.
If you or a loved one have been charged with a DUI, it is important that you take important steps to protect your rights. You need an experienced DUI defense lawyer representing your interest and fighting for your rights. Darren Haley can help you navigate the criminal justice system. Contact us today and find out how Darren Haley can help you.
Know Your Rights
After a DUI arrest, you will receive a court summons; any failure to make an appearance in court can lead to even more legal trouble. It is important for you to understand that your actions while in court can have a significant impact on the outcome of your case, which is why it's so important to retain a DUI Lawyer immediately.
If any evidence of a DUI is presented in court, you may face a lot of legal consequences, even if they don't include jail time. Even as a first-time offender, you can face the following consequences if you are convicted of DUI:
Driver's license suspension or revocation

Attend drunk driving school and other DUI-related programs

Fines of thousands of dollars

Increased insurance rates
A DUI case can take months to completely process, and in the meantime, you may face other consequences. The South Carolina Department of Motor Vehicles (DMV) may suspend or revoke your driving privileges. If the DUI charges are brought against you and you are convicted, you would be required to follow all legal consequences in order to get your driver's license back.
Experience and Legal Knowledge Matter
If you have been charged with a DUI in South Carolina, you need an attorney on your side who understands the legal process. Attorney Darren Haley has worked as a prosecutor and has a vast amount of knowledge of South Carolina's complex legal system.