Arson Attorneys in Greenville, South Carolina
Arson is the intentional and malicious use of fire or an explosive to cause damage to someone else's property or your own.
Arson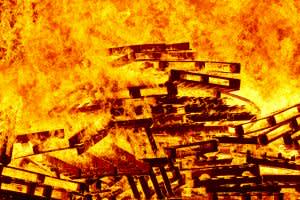 In Virginia, arson is always considered a felony. Penalties for a conviction depend on whether the dwelling or structure in question was occupied at the time of the fire or not.
If the property was occupied at the time of the fire, then it's punishable by five years to life in prison, with an additional fine of up to $100,000.

If the structure was unoccupied, the charge is downgraded to a Class 4 felony which carries a prison sentence between 2 and 10 years or a fine of up to $100,000, or both.

If someone dies as a result of the fire, the person charged may also be charged with murder.
First Degree Arson
First Degree Arson occurs when an individual willfully and maliciously sets fire to, causes an explosion, or otherwise causes the burning of any structure or home dwelling, resulting in the death of a person. If convicted, you could face a prison sentence of no less than 30 years.
Second Degree Arson
Second Degree Arson is defined as the willful and malicious burning of any structure, home or property and causes the serious bodily injury of a victim. If convicted, you could be sentenced to no less than 25 years in prison.
Third Degree Arson
Third Degree Arson is the intentional and malicious burning of a building, structure, or dwelling house which results in bodily injury to another, or damage to the property. The penalty for a conviction is a maximum prison sentence of 15 years.
The destruction of one's own property using fire is usually associated with insurance fraud, which is also a felony.
If you are accused of or charged with arson, do NOT discuss what happened with law enforcement, even if it is to claim that you are innocent. Like other criminal charges, you should not talk to police or prosecutors without having your own attorney present. At Haley Law Firm, LLC we will work diligently to provide you with the legal representation you need.